Ptah is the architect of the universe. So if you're looking for some kind of solution to a problem, he's a great guy to ask. Do you need to use your ingenuity or inventiveness to solve a conundrum? Or are you looking for someone who can help you produce some kind of desired result? 
He represents everything good about man and whereas Osiris is seen as the heavenly father, Ptah is seen as the earthly one. He's practical and able to deal with any kind of work – from hard labour to the most intricate of technical issues.  He deals with new inventions and scientific discoveries. He loves a gadget.
Ptah represents the gentle caring side of a man who does not need to resort to aggression to prove his masculinity. He's sure of himself and he's here to help. His advice it to either to find a Ptah-like of chap to help you out, or to channel Ptah, and do it yourself.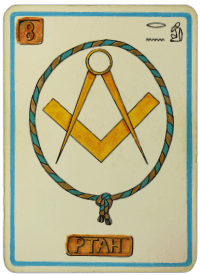 Egyptian Symbol: Mason's Tools
Egyptian Identity: Architect of the Universe, Patron of men
Hieroglyph: The REN, or Name
Nature: Fixed
Upright
Meanings
:
Masculinity

Ingenuity

Inventiveness

Craftsmanship
Reversed
Meanings
:
Banality

Chauvinism

Destructiveness

Misogyny

Refusal to contribute to the community