The Lotus is one of the best cartouche cards to bring you peace. It helps you deal with the stresses and tensions that are associated with modern life. Its message is one of peace and relaxation. 
Once relaxed, the subconscious mind can take the wheel for a while, and after a bit of percolation will come up with the answers that the conscious mind has been striving for (usually unsuccessfully).
Usually if Lotus appears for you, it's because you are struggling to find your zen and want to find a way back to your inner calm.
Lotus brings with it the energies of continuity, meditation and placidity. In this position, it reminds us that events have very little effect on our experience in this life. Our reactions to the events, which in turn create emotions, have a massive effect on how we feel. We are in control of how we respond. Always.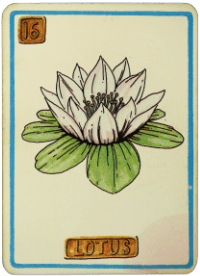 Egyptian Symbol: Sacred flower of Nephthys
Egyptian Identity: Home of the four sons of Horus
Nature: Fixed
Upright meanings of Card:
Continuity

Meditation

Placidity
Reversed meanings of Card:
Fragmentation

Introversion

Agitation