Anubis is the protector. He's the guardian of your life path. The opener of ways, and the divine jester.
If you find Anubis in your reading then it's fair to say you're looking for the right way forward. In mythology, Anubis was the divine guide dog. He was granted special access through all undesirable regions. Nothing had the power to interfere with his work.
Anubis offers the ability to steer a safe course through Troubled Waters, should the need arise. He was also known for his sense of humour, is that something that you have, or need more of? Anubis had the reputation of being the ultimate diplomat and the protector of paths.
This card suggests protection from harm and recommends thinking carefully before you speak.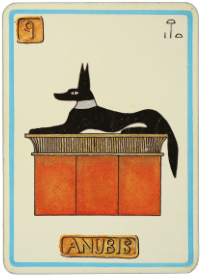 Egyptian Symbol: a jackal or hunting dog
Egyptian Identity: The Protector and Guardian, The Opener of the Ways, The Divine Jester
Hieroglyph: The KHAIBIT, or Shadow
Nature: Moveable
Upright
Meanings
:
Diplomacy

Navigation

Humour

Protection at all levels
Reversed
Meanings
:
Vulnerability

Tactlessness

Misguidance

Foolhardiness